Wednesday, Nov 22, 2006
Woman Of The Week: PAIGE PETERSON
Paige Peterson, Artist/Author/Illustrator,speaks to Marilyn Russell
By Marilyn Russell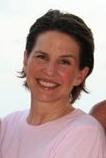 Now that my son is fifteen, one of the things I miss most is story time. It was my absolute favorite time of the day. I remember vividly how proud I was when he took the reigns and read his first book on his own from cover to cover. It was Goodnight Moon, then If You Give a Mouse A Cookie, and so on. I was delighted when I received a new children's book and the nomination for WOTW of its illustrator, Paige Peterson. Blackie is the stubbornly motionless equine hero of Christopher Cerf and Paige Peterson's delightful and touching biography-in-verse, Blackie, The Horse Who Stood Still. In this heart-warming tale, Blackie is a horse who makes standing stock-still a lifelong endeavor — as a champion rodeo horse, a tourist favorite at Yosemite Park, an environmental crusader and the beloved mascot of one of America's most beautiful towns, Tiburon, California. Blackie, The Horse Who Stood Still quietly delivers an important message about appreciating and preserving the natural beauty around us.
PAIGE PETERSON is a noted New York artist who has appeared on "Oprah" and Lifetime Television's "Our Home," and has designed and styled segments for ABC's "Good Morning America." Her lyrical illustrations of Blackie help bring the story to life. Additionally, her paintings are exhibited regularly in galleries across the country, and in 2003 she was selected for membership in the prestigious Guild Hall Academy of the Arts. While growing up in Belvedere-Tiburon, California, Paige walked down the old railroad tracks to Blackie's pasture and fed him apples, carrots, and sugar cubes until Blackie's death in 1966. Now, she lives and works in New York City with her two children. She'll be in our neighborhood on Saturday, December 2nd – details below.
WOTW: When did you realize you had artistic talent?
Paige: When I was a child I made forts in the bramble near our home. In my forts, there was always room for the possibility of a big fire pit and a cozy bed to sleep in under the stars. I was always designing something. I used to lie in my sleeping bag and think about what I would paint.
WOTW: How did you get started?
Paige: When I was a teenager, my mother, an interior designer, asked me to produce a dozen paintings in different styles—using different media—with each looking as if it were produced by a different artist. I met the challenge. The paintings sold off the walls at the model home.
WOTW: Tell us about your unique style of painting.
Paige: I am fascinated by the emotional and the literal space between people and what defines intimacy. Sometimes removing my subjects from a sense of location forces them to be pure in relationship to one another.
WOTW: Give us your take on Blackie?
Paige: "Blackie the horse who stood still" is the true story of a sway-backed horse who stood in his pasture beside the San Francisco bay for the last 28 years of his 40-year life. Blackie quietly delivers an important massage about appreciating and preserving the natural beauty around us.
Blackie is about…
The environment
Quality of life
Sense of place
Over crowding
Conviction
The preciousness of patience, dependability, tenderness and love.
Empathy
Consistency
Compassion
Quietude
The strength that comes from being true to one 's self.
And, of course, simply standing still
WOTW: Do you have a favorite part of the text?
Paige: Yes, "And when Blackie SLOWED DOWN just to TAKE IN the view the kids saw him do it, and they did it, too And they learned in the process, what JOY can be found in just standing there QUIETLY LOOKING around"
WOTW: Of what are you most proud?
Paige: First and foremost, my children.
WOTW: What (if any) is your guilty pleasure?
Paige: A nap in the afternoon
WOTW: What advice would you share to someone who's just starting to illustrate?
Paige: Find your own original voice. Be true to yourself. The work will find its way …opportunity always knocks…. the question is will you be ready to open, and walk through the door, when the opportunity arises?
WOTW: Have you been lucky in your work?
Paige: You make your own luck.
WOTW: Lastly, what's next for you?
Paige: A children 's book on New York's Central Park.
I can't think of a better time of year than Thanksgiving to take a page out of Blackie's book. As we go through the rush of our daily lives, whisk the kids off to school sometimes breaking land speed record, Thanksgiving is the perfect time to just stand still…even if only for a moment, to stop, look around and appreciate all that we have.
The authors of BLACKIE, The Horse who Stood Still are in town Saturday, December 2nd from 2 to 6 p.m. in Harleysville, PA, to meet readers and autograph copies of Blackie, The Horse who Stood Still. RSVP – 267-980-1679. More information on the book, Paige and Writer Christopher Cerf is available at
www.blackiethehorse.com
.